E ' Business Competence thanks his project Dogalize , to win the ' 2015 edition of the prestigious award with which the ConfCommercio, the largest organization representing firms in Italy with its more than 700,000 member companies, every year certifies excellence in the work of Italian firms and their interpreters.
Dogalize is the latest innovative projects of Business Competence. It is the pet social network number 1 in Italy with more than 250,000 users also spread internationally. It is not just "social", but also full of useful content, dedicated to lovers of dogs and animals; we also find the services of veterinarians and educators available to users so completely free for advice and to receive a first support.
Special attention is given to all the Enterprises Pet Friendly . Becoming Partner Dogalize, facilities that accept dogs (restaurants, hotels, camping, shopping, …) can not only be geolocated in maps, but also place the promotions and offers in Unlimited . Dogalize is in fact the social network that meets all the needs of those who love our 4-legged friends.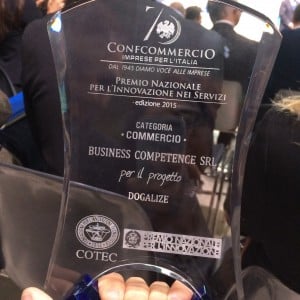 This is yet another award won by Business Competence, the software house in Milan, founded in 2007 and already famous at the level not only Italian but also internationally, as evidenced by the number of awards received : The Webby Award of News York or The Oscars of the Internet in 2015; the Lovie Award in London, the Oscars of the Internet in Europe, in 2014; the BIMA Award; The GMIC Awards of Silicon Valley and numerous other awards and commendations. The CEO Business Competence, Sara Colnago, has won the prestigious award of "Woman entrepreneur of the Year 2014" in the mobile app and was confirmed in 2015 with the mention of "Woman Innovator" within Social. His words: "And 'for us an extraordinary honor that rewards competence, quality and professionalism of the work done over the years in which we have been engaged in many innovative projects."
But not only this award, as those obtained previously, to show how valuable the commitment that Business Competence dedicated daily to their work in constant search of 'innovation.
And 'especially the growing interest of Venture Capital Investors and it is for this team, excellence of Italian innovation, both for their Social Netwok Dogalize to demonstrate the real value of their ideas.
Sara always closes Colnago: "This award is a major achievement, but every goal is for us only a new beginning."
The future is already present, for those who pass the offices of Business Competence.